New & Notable
Dr. Philip McCallion is the 2014 Recipient of PDP's Distinguished Continuing Professional Education Leadership Award of Excellence.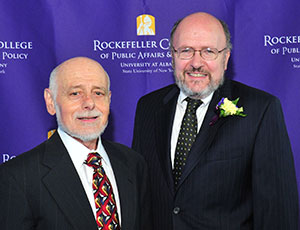 PDP is proud to recognize Dr. Philip McCallion, Distinguished Professor, at the SSW UAlbany as the 2014 recipient of PDP's Distinguished Continuing Professional Education Leadership Award of Excellence.
Given annually by the Professional Development Program of Rockefeller College, this award acknowledges exceptional leadership and notable contributions to the field of continuing professional education for the public and not-for-profit workforce.
Awardees need not be Rockefeller College graduates. However, to be considered for this award, individuals must have a distinguished career in advancing public service and meet the following criteria:
Commitment to excellence and service in continuing professional education;
Leadership in innovative continuing professional education;
Vision that advanced the field;
Recognition by peers; and
Exemplary scholarship.
Dr. McCallion's work exceed these criteria, and he is well respected for his ongoing commitment to excellence in fostering continuing professional education and training for the public sector in the field of aging. This is demonstrated by the many contributions he has made through his work with Adult Protective Services and the New York State Office for the Aging in building an aging prepared caregiver support system. In addition, he has done valued work with the Office for People with Developmental Disabilities, the Administration on Community Living, the Alzheimer's Association and numerous service providers throughout New York State. His contributions with these organizations and professionals helped build a competent and expert workforce supporting community services for individuals as they age.
His work has extended to other states as well as internationally in Ireland, the UK, Taiwan and Australia.
His ongoing efforts with the Albany Guardian Society to build professional capacity in the Capital Region to support successful aging as well as the vital work he has done through the Center for Excellence in Aging and Community Wellness supporting the, New York State Office for the Aging and the NYS Department of Health in promoting evidence based health practices for seniors are other examples of his commitment to support continuing professional education.
In addition to his capacity building work, he also has a distinguished record of accomplishment in research. Dr. McCallion's research achievements have been supported by numerous grants and awards from the National Institute on Drug Abuse, National Institute on Aging, the U.S. Administration on Aging as well as awards from a number of foundations. He has produced over 100 publications on interventions with older adults. He is editor of Housing for the Elderly: Policy and Practice Issues and is co-editor of Total Quality Management in the Social Services: Theory and Practice.
Dr. McCallion's efforts in building the capacity of the knowledge worker in the field of aging is a striking example of a unique educator who has made a difference at the intersection of policy and practice. The results of his undertakings have led to a better informed and skilled professional workforce.
As the 2014 recipient of the award, Dr. McCallion's work embodies the principles that PDP stands for.