Department of Computer Training Services (DCTS)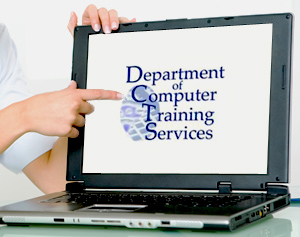 The Department of Computer Training Services (DCTS) assists state and local district staff in developing skills with computer systems and applications. DCTS provides a full-service integrated approach including needs assessment, instructional design, training delivery, and evaluation activities geared towards specific user groups and systems.
Training topics include off-the-shelf systems or applications such as county Microsoft Office 2003 and 2007, as well as proprietary systems used by state agency and district staff that address casework services for children and families, and temporary and disability assistance programs.
DCTS services include:
Evaluating the specific training needs of trainees, emphasizing task analysis and job responsibilities
Assisting in system design from the standpoint of skill sets and integration of existing processes
Designing curricula and training materials, including training and reference manuals, quick reference cards, and help systems
Application testing and quality control
Preparing training plans customized to the technical ability and job functions of the trainees
Evaluating the success and effectiveness of training programs
Providing technical assistance follow-up
Current training delivery methods include:
Facilitated, instructor-led training
One-on-one training to meet specific user needs, including the use of assistive technology
Technical assistance enhancing user projects and applications
Instructor-led distance learning, featuring hands-on interaction and communication
Computer based asynchronous training
Additional information regarding courses can be found in the Computer Training Course Catalog (2.1Mb pdf). The catalog describes a wide variety of courses and topics available, and includes detailed information regarding course prerequisites, registration procedures, scheduling, and post-class follow-up assistance.