Employment Opportunities at PDP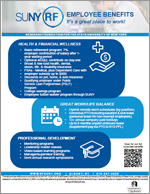 Employment at the Professional Development Program (PDP) is through the Research Foundation for SUNY, which offers exceptional benefits such as healthcare, dental, vision, pension plans, competitive pay, tuition assistance, life insurance, and long-term disability insurance. PDP is located at the University at Albany, home to a variety of performing arts, world class libraries, and competitive sporting events.
If you are interested in applying for any of the positions below, please follow the application instructions in each specific job posting. A separate application must be submitted for each position to which you are applying. Newest opportunities are posted at the top.
Positions Currently Open:
Child Support Training and Outreach Project
Child Welfare Training
Computer Systems Training
Early Childhood Training
Information Systems and Programming
Public Service Workshops Program