Providing award-winning continuing professional education to employees of public and voluntary agencies.
PDP Provides Technical Assistance to Kenyan Parliamentary Center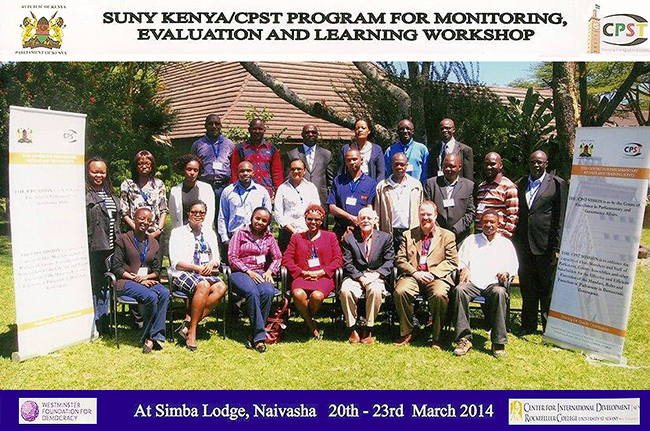 In collaboration with the SUNY Center for International Development (CID), PDP Executive Director Eugene Monaco and John Thompson of the Child Welfare Program travelled to Kenya to conduct training and technical assistance to the Centre for Parliamentary Studies and Training (CPST). Eugene and John partnered to deliver interactive workshops on needs assessment strategies and trainer certification programs. In addition, they also held discussions with CPST about best practices in the development of online course content.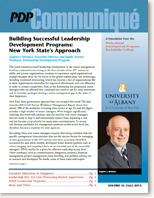 In this issue:
Building Successful Leadership Development Programs: New York State's Approach
Executive Education in Singapore
Leadership Development for Case Processing Review Supervisors
5 Keys to Inspire Leadership
PSWP Leadership Programs
e-Learning
PDP is a recognized leader in adapting state-of-the-art technologies for e-learning training solutions. As facilitators of instructional and communication technologies that expand the horizons of e-learning, we:
Develop custom, award-winning e-learning and media-based training products
Develop and deliver workshops that familiarize training professionals with the use of technology
Recommend proper applications of technology to specific training needs
Participate in various initiatives to promote and model the use of technology in training
Work closely with both the University and public agencies to foster best practices in distributed education
Web-Based Training
PDP was the first training provider to partner with a New York State agency to develop and deliver custom web-based training. Today, we work with many agencies on projects that range from simple training modules to suites of courses delivered through a custom course management system, or e-learning center.
Our web-based courses use a variety of technologies that enable dynamic content generation, customized feedback, sophisticated interactions, and nontraditional instructional approaches. Agencies are able to track learner progress and completion, monitor responses, and download evaluation data for accurate reporting. PDP courses are highly accessible across a broad spectrum of browsers, and meet or exceed state and federal standards for accessibility for the disabled.
Courses range in format from traditional—where content is broken down into lessons, units, and topics, and learners progress in a linear fashion—to highly experiential, where learners are immersed in a contextual situation and asked to make decisions that impact course outcome. PDP staff work closely with our partners to determine the best instructional approach based on content, goals, learning objectives, and audience profile.
Media Services
Using state-of-the-art video technologies, PDP produces and directs television productions for broadcast, DVD, and a variety of Internet-based delivery systems.
For over 13 years, our media department has produced the live-broadcast "Early Childhood Education and Training Program" for registered day care providers in NYS. The program has won Telly, Videographer, Communicator, and Aurora broadcast awards. It features new research, NYS regulatory explanation, and live interaction with national experts. The PDP media department also provides training for a variety of NYS Office for Children and Family Services providers.
Teams of content/video producers and videographers collaborate on productions to best suit our partner's needs. Taping on location or in studio, our video crews employ lights, cameras, teleprompters, multi-layered post production and editing, a studio control room, and live studio broadcast to satellite to communicate to viewers. We also provide DVD duplication for mass distribution.
PDP's media services will soon be implementing Mediasite technologies to broadcast live online television programs, providing our partners even more options for content delivery.