PDP's Newsletter
Our newsletter, the PDP Communiqué, provides timely and critical information, best practices, and valuable insights about the education and training fields, as well as relevant developments in the larger academic and public service environments. With articles written by practitioners and scholars from diverse settings, the PDP Communiqué informs and sustains inquiry and conversation related to individual and organizational performance in our rapidly changing world.
Volume 32, Spring 2014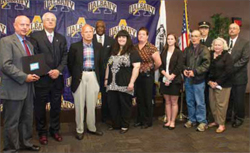 Community Engagement—Energizing the University Commitment
by Eugene J. Monaco—Executive Director and Public Service Professor, Professional Development Program
The engaged university concept has taken on a new form as colleges across the country embark on ambitious community engagement plans that create dynamic collaborative relationships with the communities they serve, both locally and globally.
The engaged collaborative university is not a new concept; it can be traced back to the 1990s when the late, forward-thinking Ernest Boyer, former Chancellor of the State University of New York and President of the Carnegie Foundation, boldly suggested new roles for higher education with distinctively different missions. The new missions were to propel universities beyond their traditional comfort zones of academics to engage in research with a path to solutions more connected to real world problems within their communities. Early collaborative engagement programs had a narrower reach and focused on the improvement of "town-grown" relations, an approach that had limited social and economic impact.
(continued in the PDF version)

PDP Works in Partnership Between Agencies
by Sherry M. Cleary—Executive Director, and
Louisa Higgins—Senior Learning Specialist, New York Early Childhood Professional Development Institute, City University of NY
The New York Early Childhood Professional Development Institute (PDI), along with our colleagues at the New York State Association for the Education of Young Children (NYSAEYC), have had the privilege of partnering with the Professional Development Program (PDP) in doing some exciting work. Over the last five years, we have collaborated on a number of initiatives dedicated toward improving the quality of childcare in New York State. As partners, our shared goal is to help connect early childhood professionals with the high quality educational and professional development opportunities that they deserve: opportunities that promote career growth and allow them to create the best possible environments for young children.
(continued in the PDF version)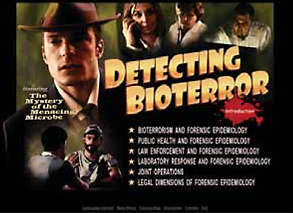 PDP and UAlbany School of Public Health—Collaboration Yields Mutual Benefits
by Rebecca Stanley—Manager, Instructional Technologies Unit Professional Development Program

Over the past sixteen years, PDP has worked with many different agencies and organizations to develop online training. Experience has taught us that bringing these customers to the table as partners who collaborate in the development process saves time and resources; it also yields a better product. While PDP staff have the experience and the design and technical expertise to produce e-learning that is both graphically and instructionally engaging, the sponsor agency has unique insight into the culture and unique characteristics of the training audience. Combining these perspectives can result in dynamic, award-winning products and mutually beneficial relationships.
(continued in the PDF version)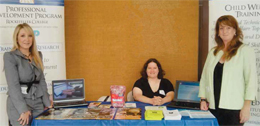 PDP Participates in the Community Engagement Fair at UAlbany during Connect-to-Community Week

President Jones designated October 16-23, 2013, as Connect-to-Community Week—a time to encourage volunteerism, advance University-community partnerships, and increase student and faculty involvement in community-based learning and research. To kick off this weeklong celebration, a Community Engagement Fair was held on October 16th from 10:00 am to 2:00 pm in the Lecture Center Concourse.
(continued in the PDF version)
PDP to Support Rockefeller College Grant Award to Advance Online and Blended Learning

Recently, Rockefeller College was awarded a grant from the University's Office of the Provost to expand online education opportunities for students. By working collaboratively with the Professional Development Program, the College will undertake this initiative and achieve the goal of expanding their online education offerings and broadening the teaching experience of doctoral students in several ways.
(continued in the PDF version)
Also in this issue: