2016 Annual Award Recipients
PDP Executive Director's Award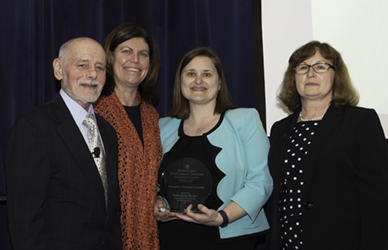 Casey Becker
Sr. Education Specialist
Department of Media Production
Cassandra "Casey" Becker, Sr. Education Specialist, with PDP's Department of Media Production, is the recipient of 2017 Executive Director Award. Over the years, Casey has worn many hats, such as senior producer, program researcher, subject matter expert, course developer, and scriptwriter as well as identifying and recruiting other subject matter experts. Casey also lends her talents on air, conducting expert interviews and as a featured presenter. Furthermore, as a member of the Media team, Casey often pitches in on broadcasts, as needed operating various studio equipment.
Casey produced the Pyramid Model webcast series that received an APEX award for excellence earlier this year. She also produced the Preventing Expulsion and Suspension e-learning course, which features interviews that Casey conducted with Dr. Walter Gilliam of Yale University, a national expert on this subject. Additionally, Casey was the featured narrator of the Health and Safety classroom training video.
Even more notably, Casey has been the driving force behind the 5-hour Foundations in Health and Safety e-learning course. She envisioned the creative museum concept that serves as the navigation tool for the course She pushed herself, her colleagues and our sponsors in finalizing modules to meet the December 31 launch. Over 5000 trainees have taken the course to date and kudos continue to roll in, including this one from Karen Kissinger from the Division of Child Care:
Casey, we have already received positive feedback on the Foundations of Health & Safety online training. This includes providers, union representatives, and CCR&Rs. Thank you so much for your work. We appreciate your efforts to research, draft, revise, be the on-screen talent, nudge us as needed, and put all the pieces together while showing flexibility. Because of you and the PDP team, we expect several thousand-child care providers to gain knowledge and skills to keep children safe and healthy. We are also well positioned to meet federal requirements that providers obtain high-quality training in these topics.
This glowing testament demonstrates without question that Casey is most worthy of this recognition.
PDP Outstanding Team Award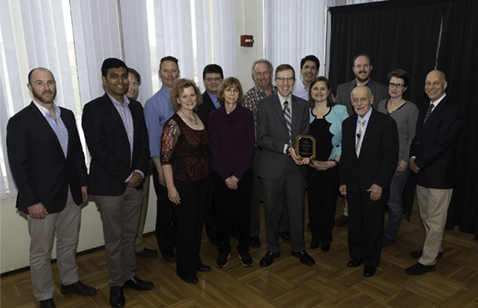 Information Systems & Programming
Team Members: Nathan Allen, Casey Becker, Ron Biggé, Ric DiDonato, Colleen Faragon, Gary Glinski, Erica Hunter, Ed Kirchgessner, Penny Kurtz, David Lanthier, Dan Meade, Joan Meyer, Ed Skawinski, Bryan Sotherden, and Rohan Warkad
All of the team members worked tirelessly to develop and deliver a unique 5-hour Foundations in Health and Safety e-Learning course. An expected 200,000 childcare providers in New York State are required to take this training, under a federal mandate by September 30, 2017. Because of the number of training hours, as well as the creative course format, this e Learning is as no other e learning developed by PDP. The team faced many challenges, including changes to the training audience, content updates, resources from the federal government that were released mid-project, and workgroup member changes. The scriptwriter, course designers and software developers worked in unison to meet the sometimes-vague expectations without missing a deadline.
The team worked at breakneck speed to meet the soft launch of the 13 modules by December 30, 2016. Often-working long hours while juggling other projects, the entire team performed with persistence to make sure everything was correct and met the PDP mark of excellence. The team was also able to make the course SCORM compliant, meaning that trainees could take the course between different devices and browsers. This five-hour e-Learning course conceptualized, written, designed, recorded, developed and tested in five short months and publically launched in early 2017 was a herculean effort.
This course has received many compliments from sponsors and PDP staff regarding its overall creative design, attention to detail and, ability to make it useful to the many different childcare entities. At an Early Childhood Advisory Council Public Hearing held in February, several attendees praised the training for its interesting and fresh new look and the way the course functions. Big thanks for a job well done!
PDP Outstanding Trainer Award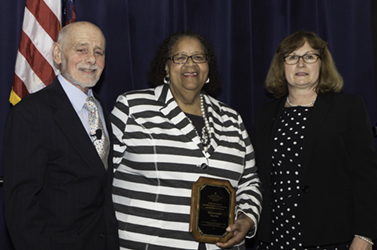 Cecilia Archer-Tucker
Sr. Education Specialist
Department of Temporary Assistance Training
Cecilia has worked for PDP since 2002. She is very experienced in several program areas, ranging from Temporary Assistance and Employment Services policies to mental health awareness and interviewing competencies to HEAP eligibility to auditor training.
During 2016, the Department of Temporary Assistance Training experienced several overlapping staff vacancies. The timing and span of some of these vacancies created many challenges in meeting PDD's deliverables. Without hesitation and with a smile, Cecilia stepped up to fill many of the gaps and training assignments going way beyond expectations. In addition to her own existing work, she willingly filled multiple training and team leadership roles. This included delivering a significantly higher volume of training, developing new curriculum on very short notice, participating in search activities for new training and development staff, and actively contributing to the on-boarding process for new staff.
Most notable, Cecilia delivered two, six-day Employment Services Training Institute's for TA and SNAP offerings independently, as well as most of two additional six-day deliveries (this is a program designed for co-training). She also supported several four-day, two-day, and one-day programs consecutively and in one case overlapping one another. She consistently received extremely positive trainee and sponsor feedback. In fact, one of Cecilia's trainee groups presented her with a beautiful bouquet of flowers to thank her for her outstanding delivery and fortitude.
Cecilia is a model for fostering positive behavior and her peer coaching contributes to building staff morale by helping team members develop and expand their knowledge, skills, and abilities. She has coached and mentored multiple trainers, willingly sharing her knowledge and experience. Her efforts helped build subject matter expertise with new staff in an accelerated manner.
Besides her routine curriculum development assignments, Cecilia regularly attends trainer practice sessions and provides valuable feedback to new trainers. She always delivers trainer feedback in a positive way focused on building self-esteem and confidence. Cecilia continually challenges training team members to strive for improvement and excellence while reinforcing their strengths.
Cecilia is most deserving of this award based on the remarkable work completed this year and throughout her 14 years with PDP.
PDP Outstanding Professional Staff Award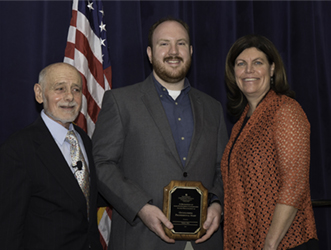 Nathan Allen
Sr. Programmer/Analyst
Instructional Technologies Unit
As a Sr. Programmer/Analyst for the Instructional Technologies Unit, Nathan makes a huge impact on every project. In 2016, time and again, Nathan's work was a game-changer. Nathan's problem-solving abilities and technical skills are in high demand with peers, supervisors, and project sponsors. Nathan received the PDP Innovation Award for the fourth quarter of 2016 for his efforts in developing the 2017 iteration of the OCFS County Plans application. He learned a programming language he was not familiar with and then went on to reduce the number of files from over 440 to less than 120, and reduced the number of lines of code by more than 50%.
Nathan took on another challenge, which resulted in the development of CFScormHandler. This code, although described by Nathan as "fairly simple," is a major breakthrough for PDP. It allows PDP learning management systems developed in ColdFusion to communicate with courses built in Lectora through SCORM, a set of technical standards for e-learning software. Thanks to Nathan's introduction of CFScormHandler, administrators are now able to see more detail about users' progress and completion for the 5-hour Foundations of Health and Safety training for PDP's Early Childhood Education Training Program. CFScormHandler will eventually apply to a large number of other PDP projects.
In mid-2015, OTDA requested that access to Training Space be expanded to allow NYC Human Resources Administration (HRA) staff to register for trainings without NY.GOV or HSLC accounts. Nathan was key figure in the design and development of the project, known as "TS Pass." In January 2016, "TS Pass" launched and upgraded throughout the year. As a result of this expanded access, HRA staff participated in 15 courses that were previously unavailable to them; resulting in over 18,000 course completions through 2016.
During the development of TS Pass as well as other projects, Nathan clearly demonstrated his project management skills and ability to explain technical details to his supervisor, coworkers, and sponsors. Above all, Nathan is an instrumental part of the ITU team, and brings enthusiasm to all of his work. Congratulations Nathan!
PDP Outstanding Administrative Support Staff Award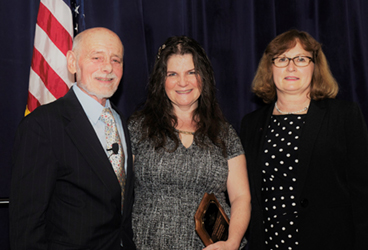 Terri Zuelsdorf
Administrative Assistant
Evaluation Department
Terri has worked for PDP since 2002 and is responsible for providing project and logistical support within PDP's Evaluation Department, the Finance and Project Support Department, and the Specialized Services for Employment and Economic Supports project. In April 2016, Terri assumed the responsibility of processing training evaluation survey data.
Terri regularly attends and actively participates in the Office of Children's and Family Services (OCFS) Human Services Learning Center (HSLC) group meetings. Last fall, OCFS adopted Terri's suggestion for a visual instruction to demonstrate to trainees the correct way to complete the answer sheets. This newly redesigned answer sheets help gather more accurate data from trainees.
Terri's organizational skills and proactive approach serves PDP well in that she anticipates problems implements steps to prevent them from occurring. She created a written procedure manual for processing the various evaluation forms and it has proven to be quite useful to PDP staff. Terri is also instrumental in maintaining up-to-date policies and procedures regarding Evaluation and Room Reservation areas on the intranet. Terri maintains the 3rd floor copy center as well, and she ensures the machines are working properly and that supplies are well stocked. Terri takes pride in her work at PDP, takes on new assignments with enthusiasm and follow through to make sure they are successfully completed.
Congratulations Terri!