2017 Annual Award Recipients
PDP Executive Director's Award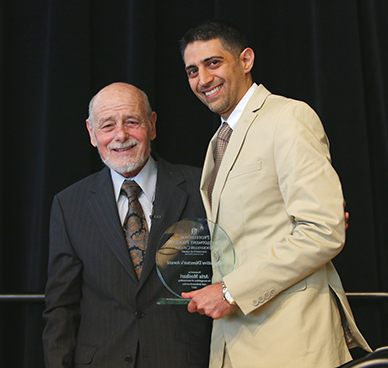 Aria Moshari
Senior Programmer/Analyst Project Leader
IT Department
Since his arrival in 2015, Aria has continually applied his strong design and programming skills to transform aging systems into 21st century models of efficiency while simultaneously responding to requests to develop complex new features and solutions. The results of these efforts have significantly strengthened PDP's place as a technology leader.
His tireless work on the EIP Event Approval Portal involved major rewriting and development aimed at creating the next generation EIP Database. He markedly improved the functionality of the database using a seamless transition process. Aria also brought a fresh set of ideas to the Information Systems and Programming group. His work helped streamline many processes and improve security, as well as modernize several aspects of our internet presence.
Aria created the Standardization Series, now the cornerstone of .NET application development at PDP. He relied heavily on these standards during the recent development of the new training portal. This state-of-the-art portal provides many new features to Health Safety and MAT trainers including; course management, self-service rosters for trainers, electronic certificates with code verification, reporting features, and automatic reminder notices and alerts.
He quickly grasps core business needs, and with his expert programming skills is able to design robust applications from scratch. Aria is equally talented at re-developing and enhancing PDP's many existing applications. A recent example is the consolidation of several of PDP's membership databases, creating a central application to manage over a quarter of a million accounts.
Aria embraces the "DevOps" model daily, meaning he works equally with development staff and operational staff. He readily shares knowledge, techniques, and ideas with fellow developers and PDP staff. A quiet, yet highly effective leader, Aria's efforts have modernized and advanced many of PDP's most relied upon applications.
PDP Outstanding Team Award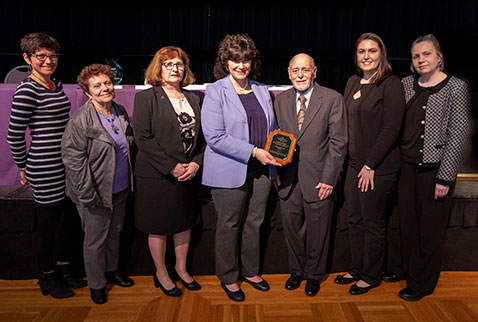 Poverty/Trauma Course Development & Implementation Team
Team Members: Jessica Bashaw, Colleen Denning, Harra Epner, Susan Gieryic, Diane Hodurski-Foley, Gowoon Jung, June Mastan, Jenna Melewski, Paige Pappianne, Fazana Saleem-Ismail, Lauren Schauer, Bonnie Taylor, and Laura Vecchio.
This diverse interdepartmental team came together to design, develop, and implement a new one-day classroom course, Program Development and Implementation Considerations for People Affected by Poverty and Trauma (Poverty/Trauma Training), to meet a high priority training need identified by the NYS Office of Temporary and Disability Assistance in 2017.
At the end of 2016, OTDA recognized a need for their staff who are involved in development and implementation of programs affecting the public assistance client population to foster a more human-centered, trauma-informed approach to administering OTDA's programs. This training initiative would examine how the experience of living in poverty and experiencing associated trauma affects the development of the brain, and how this information can be useful for development and implementation of OTDA programs targeting this group. Up to 3000 staff would need training, with up to 200 key positions to be trained within the first 4 months of course implementation.
To meet this significant challenge, it took a team with a variety of talents and expertise. The range of member roles included: researchers, instructional designers, curriculum writers, trainers, reviewers/proof-readers, evaluators, project managers, event planners, HSLC registrars, and all other forms of project support. Team members represent the Department of Temporary Assistance Training, the Evaluation Unit, and PDP Senior Staff.
Early in the year, the team conducted a training needs assessment followed by a literature review on the topics of poverty, and trauma. They then created a curriculum development plan, course design plan, content outline, instructor's guide, and a pre-reading plan for trainees.
In August, the curriculum was shared with Rockefeller College faculty for review, and the team also presented the curriculum to OTDA stakeholders and key decision-makers from six different divisions within OTDA; PDP received very positive reactions to the team's work. The pilot offering delivered in September to those stakeholders and, once again, PDP received positive feedback. Within less than two weeks, the team produced a pilot Evaluation Report. After analyzing reaction data and sponsor feedback, the team finalized the curriculum.
The training was delivered to the target audience twice in December, and training deliveries are scheduled to continue through 2018 and beyond in a multi-year effort to reach thousands.
It was a huge challenge to research, design, develop, and implement this high-priority OTDA initiative in less than a year's time. It was also remarkable that this team comprised of different staff, with different job tasks, and different work styles worked together seamlessly in order to accomplish this goal. This outstanding team collaborated to produce a high quality product; going beyond and working tirelessly to get the job done and exceed customer expectations.
PDP Outstanding Trainer Award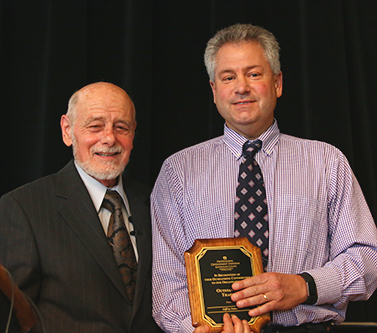 Jeffrey Isaacson
Sr. Education Specialist
Child Support Enforcement Training Initiatives
Jeff has been a trainer with the Child Support Training and Outreach Project for over 25 years. Throughout this time, Jeff has either created or assisted in creating every training program CSTOP offers. As a trainer, Jeff is very highly regarded. To quote one recent trainee, "Jeff's command of the child support program allows him to effectively train all child support personnel from newly hired staff to senior staff. He has a great ability to include and engage others in learning opportunities that enhance, expand, and highlight the mission of the child support program."
During 2017, Jeff delivered a majority of classroom and online synchronous course offerings for CSTOP while he served as the primary mentor and coach for a new project trainer and assisted with the orientation of the new CSTOP training coordinator. Additionally, Jeff responded this past year to help orient and train new Child Support Services state office staff on the child support program. He also reacquainted fellow CSTOP staff with numerous CSTOP course offerings by delivering customized, condensed sessions targeting various topics and he conducted regular topical mini sessions for new project staff to help build content expertise.
Jeff has invested considerable thought and energy into the redesign and development of the new accounting series of courses, a complex and long-term project that is approaching its final stages. Jeff also provides content expertise as needed for work on a high-profile and high-priority deliverable, development of the comprehensive Child Support Program Manual.
Jeff is a model for peer-coaching, he devotes considerable time to sharing his expertise and to mentoring junior trainer colleagues by observing training deliveries, offering suggestions for overcoming stumbling points and providing expert explanations of complex content. Jeff has proven himself an invaluable resource on content for new CSTOP project staff as well as new state staff in the DCSS office. One colleague states "Jeff's flexibility and non-judgmental attitude comes to mind as does his ever-ready willingness to help someone in need."
Jeff is well deserving of the Outstanding Trainer award—Congratulations, Jeff!
PDP Outstanding Professional Staff Award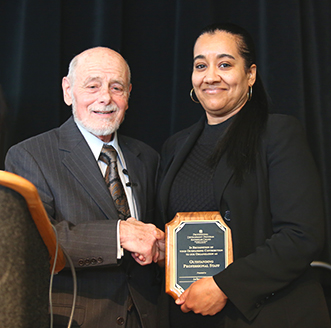 LaToya Jackson
Project Staff Assistant
Public Service Workshops Program
Latoya Jackson has worked for PDP in many roles. In her most recent role, LaToya coordinates and supports the Leadership Development Program (LDP), a flagship PSWP leadership program for PEF employees and the new NYS Leadership Institute for MC's.
During 2017, PDP successfully launched and delivered the first NYS Leadership Institute (NYSLI). This initiative formed a new partnership between the Governor's Office of Employee Relations and the University at Albany's Rockefeller College of Public Affairs and Policy, through PDP. The program designed to increase leadership effectiveness of participants by providing tools and strategies to meet the challenges facing New York State government.
LaToya played a vital role in the planning, approval, launch, and delivery of this unique and prestigious program. This required substantial effort related to the collection, review, and organization of training materials submitted by Rockefeller College, and the development of the competency model for the 360 assessment. She was the primary contact for coordinating program specifics, setting up meetings, and acquiring consensus from project members from GOER, Rockefeller College, and PDP. When the program deliveries began, LaToya was the glue that held everything together, requiring a great deal of communication with stakeholders from GOER, Rockefeller College, and PDP as well as program participants and consultants. She was responsible for making sure all logistical needs were met and each session ran smoothly. She also monitored participant completion, worked with individuals that missed sessions, and assisted with program evaluation. Even in the face of unanticipated challenges including last-minute sponsor requests, LaToya's utmost professionalism, attention to detail, and dedication to successful training program delivery and a quality training experience for each participant were clear and evident to everyone involved. She somehow managed all of this while simultaneously planning and coordinating four Leadership Development Programs during 2017, the last 3 of them overlapping during the second half of the year, the same timeframe for much of the Leadership Institute deliveries.
GOER has repeatedly recognized LaToya's efforts for both LDP and NYSLI. The GOER Program Manager (Deb Seeley) and Director of Training (Lori Zwicker) consistently provided PDP with extremely positive feedback related to LaToya's performance. She is recognized and respected for her consistent level of commitment, dedication to quality work, and professionalism.
LaToya is well deserving of this Outstanding Professional Staff award based on the tremendous work completed this year on two very important and successful programs. Congratulations, LaToya!
PDP Outstanding Administrative Support Staff Award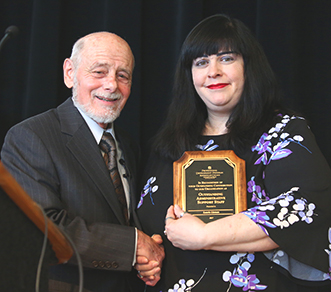 Laurie Lieman
Administrative Assistant II
Child Support Enforcement Training Initiatives
Laurie provides program and administrative support for the field-based Child Support Training and Outreach Project since 2012. Laurie works tirelessly to ensure all CSTOP support needs are covered. She demonstrates initiative and good problem solving skills with tracking curriculum revisions as well as providing customer service related to course registrations, training location arrangements and travel reimbursements.
Project staff quickly learned they could rely on Laurie to cover all bases in supporting curriculum development and training delivery and to remind them of deadlines and changes in important information. She is diligent about making sure class materials are ordered, organized and ready for trainers. She arranges for training space and accommodations for trainings, processes and ensures accuracy with trainee travel vouchers, and works with hotels to ensure training arrangements and guest rooms meet program requirements. Laurie also attentively completes closeout tasks once trainings have concluded and provides information for quarterly reports as well as performs a final quarterly edit.
One of Laurie's strongest attributes is her flexibility and willingness to help with emerging CSTOP needs. A couple of years ago Laurie worked with the training program coordinator to set up a process, which is now routine, to keep trainers informed on the status of class registrations so they would know when enrollments were low and required extra measures to ensure courses had an adequate number of participants.
Laurie also assists the Finance and Project Support Team. She helps with processing PDP's large number of Level 1 and 2 training evaluations; she helps to ensure the PDP Room Reservation System runs smoothly, and provides signage and training room supplies. Laurie also helps the Finance and Project Support Team review travel reimbursements, inputs the data into the finance report database, and works diligently to make sure that any discrepancies are resolved and timely reimbursement payments are made.
Moreover, during 2017, Laurie provided project support for several Department of Temporary Assistance Training deliverables. This included the three-day Healthy Families Training Institute, 10 offerings of the one-day HEAP Eligibility and Certification Training, and other project trainings.
Appreciated and recognized by multiple PDP departments for her willingness to respond to needs and provide exceptional support, Laurie is well deserving of this Outstanding Administrative Support Staff award.