2018 Annual Award Recipients
PDP Executive Director's Award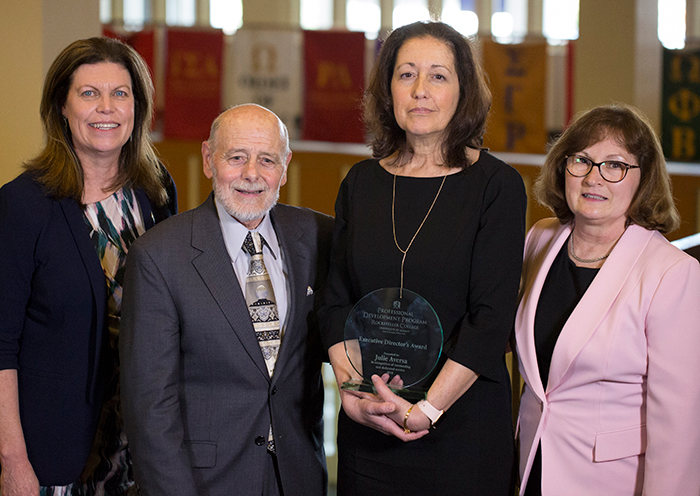 Julie Aversa
Manager of Finance and Project Support
Finance & Administration
Julie made immediate contributions to PDP from the moment she came on board as Manager of Finance in February 2006. She quickly expanded the scope of her responsibilities becoming Manager of Finance and Project Support in 2007 to include finance, proposal submission oversight, evaluation processing, the copy center, and the PDP Room Reservation System. Numerous other vital organizational functions also take place in Julie's area including processing quarterly reporting, the search and hiring process, purchasing, and financial reporting. In 2019, Julie added responsibility for the OTDA Specialized Services project to her portfolio as well. Not surprising, Julie and her staff are also responsible for overseeing the organization of today's Annual Staff Recognition event! Without a doubt, Julie plays a major role in ensuring that PDP is a well-run and high-quality organization.
Sometimes you know you picked a winner and got it right, and Julie was one of those picks! From her first day on the job, it was clear that Julie was going to be an outstanding employee. She very quickly mastered our complex budgeting and financial processes, and soon established herself as a key resource person for all staff. Julie truly exemplifies the term "team player." In addition to her great technical skills, Julie brings a positive can-do attitude to the job. She has a strong work ethic and never misses a deadline, often putting in extra hours to complete important tasks. She is well known for her patience and grace particularly under pressure.
PDP's Managers know they can count on Julie for her expertise and quick turnaround when developing budgets and other documents during our near-constant proposal development process. She frequently consults with staff on a wide variety of financial issues and it is not out of the ordinary to see two or three staff in line at her door.
Julie is the recipient of several PDP awards for her outstanding work including the 2007 First Quarter Spirit Award, the 2009 Third Quarter Customer Service Award, the 2011 Outstanding Professional Staff Annual Award, 2011 Outstanding Team Annual Award, the 2015 Third Quarter Team Spotlight Award, and the 2017 Third Quarter Team Spotlight Award.
Now she has added the Executive Director's award to this list. Please join me in congratulating Julie on receiving this well-earned 2018 Executive Director's Award!
PDP Outstanding Team Award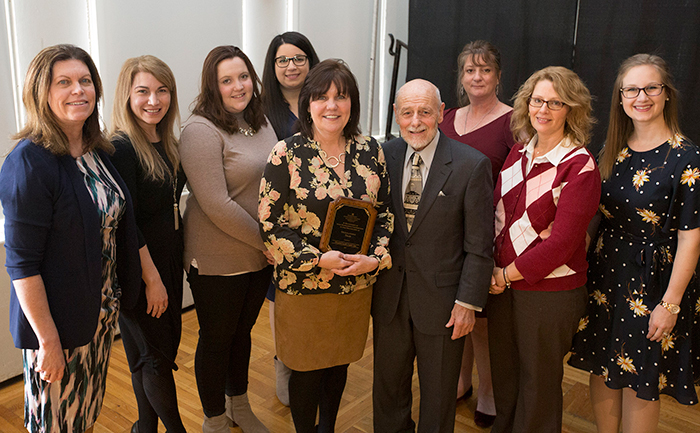 Educational Incentive Program Team
Team Members: Colleen O'Grady, Bridget Schmidt, Michele Reedy, Ally Buonanno, Katie LeClair, Kristina Decker, and Jill Haskell.
In very few contracts does the phrase "we ran out of money" mean success. However, in the case of EIP running out of money is truly the benchmark of excellence. In 2018 the EIP team awarded over $5 million dollars in scholarship awards to eligible child care providers and programs across New York State. The team was able to do this by cross training and working together to complete all the work to accomplish this goal.
Under the leadership of Colleen O'Grady—who supplies the EIP team with a consistent level of professionalism, guidance, support, and balance—the EIP team was able to overcome the challenges of 2018 and supply another year of excellence while building a level of teamwork that surpasses any previous year's accomplishments.
Over the course of 2018, the EIP staff went through significant personnel changes that pushed the members to work above and beyond the traditional expectations in order to successfully receive, process, and issue awards, and ensure compliance of the Educational Incentive Program (EIP), Quality Scholars, First Aid/CPR, and Event Approval programs. These multi-million-dollar programs require the team to work consistently with child care providers from every county in New York State, to review training curriculum, support training organizations and trainers across the country, and communicate with colleges across the country.
The EIP team was able to provide this level of service with excellence in delivery while facing one of their greatest challenges—a significant change in staff.
This was possible because the members of the team made the effort to learn each of the programs and the necessary job tasks outside of their individual job responsibilities. They were able to provide support to team members and program areas that needed additional attention. The team worked together to make sure all the work was getting done, not just their individual tasks, always asking "what can I do to help?"
During the year, the EIP team managed to seamlessly:
Process applications and approve the distribution of over $5 million dollars in EIP scholarships
Process applications and approve the distribution of almost $100,000 in First Aid and CPR scholarships
Process applications and approve over $411,000 in Quality Scholars awards
Review and approve the curriculum for over 2,000 EIP eligible classes We have some breaking news regarding the EIP team
ISP shared a report earlier this week on EIP processing time improvements. With the combination of improved processing tools and the excellence of the EIP team, the processing time for EIP applications has dropped 79% since 2014 and the average time from award submission to check issuance has dropped 64%. All this hard work resulted in the team meeting the ultimate goal—running out of money!
PDP Outstanding Trainer Award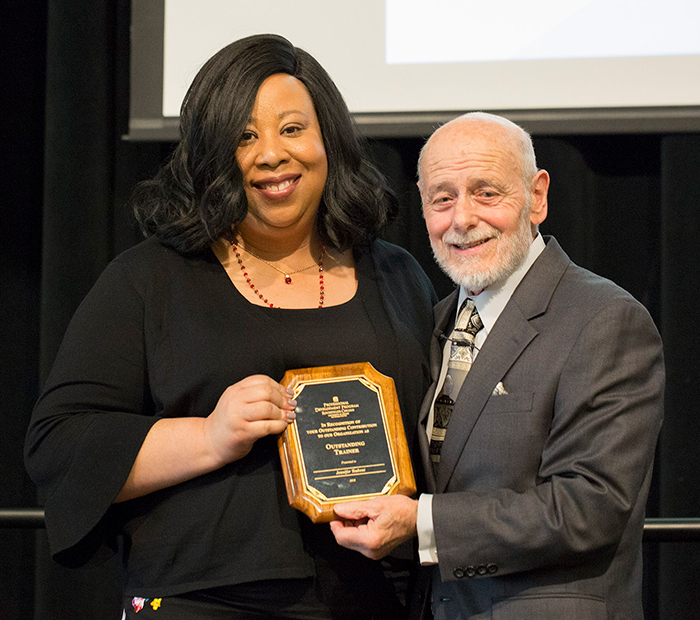 Jennifer Teabout
Sr. Education Specialist
Child Welfare
Jennifer has become the go-to person on race equity and cultural competency training. Over the last two years, she created two curricula that have become mainstays in OCFS training plans. These foundation courses have improved the conversation New York State is having with caseworkers in attempting to reduce the racial divide in child welfare services. The responses she receives on her participant reaction surveys mostly speak to the environment she created to talk about what amounts to be a difficult subject for many.
Along with the Race Equity Cultural Competency course, Jenn was a vital partner in developing the Child Welfare Foundations Program classroom module of "Culturally Responsive Child Welfare Practice." Throughout this process, Jennifer has remained a reliable, informed, and effective resource to OCFS and represented PDP well.
In the second quarter, Jenn was recognized with the Customer Service Award for her work and contributions to PDP. This award demonstrated her exceptional customer service even in difficult, yet necessary, conversations. She has been recognized as the subject matter expert in this area and this recognition allowed her to address historically ignored systemic issues within the Child Welfare System with individuals at OCFS and PDP.
Due to the sensitivity of issues related to race and ethnicity, many of those reviewing her Race Equity Cultural Competency curriculum found some of the information presented challenging. For example, during the development and review of proposed activities and discussions, there was hesitation regarding approval for engaging in an activity and discussion related to white privilege. Jennifer was able to recognize both the need for this conversation to support growth within child welfare practice and the discomfort of OCFS staff responsible for curriculum approval due to lack of experience and context. She engaged the necessary individuals and provided an understanding of these areas to leadership within OCFS and PDP. This led to these individual's growth in knowledge and the ultimate approval of these training activities.
Jennifer has worked with other members of PDP in improving training products. She has also advocated for the other child welfare trainers to update their knowledge in race equity and cultural competence. Jennifer has been a tremendous asset to PDP.
PDP Outstanding Professional Staff Award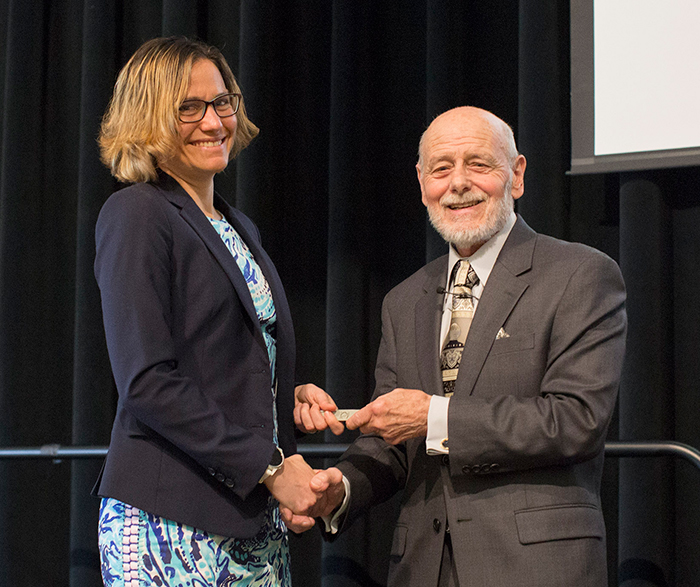 Jessica Bashaw
Training Program Coordinator
Temporary Assistance Training
During 2018, Jessica made many outstanding contributions to the work of PDP. A significant quantity and range of new design/redesign, development, implementation, and project management work was accomplished largely due to Jessica's efforts as a Training Program Coordinator in the Department of Temporary Assistance Training.
Jessica is a highly effective professional who provides oversight and completes numerous tasks for multiple curricula and training projects. Programs under Jessica's oversight often exceeded expectations. Also, Jessica regularly provided coaching and mentoring to aid her staff in building and enhancing their competencies.
Due to vacancies and other mitigating factors within the team, Jessica performed a significant number of hands-on curricula and project management work in 2018 to ensure project objectives were achieved and timelines were met.
Jessica was and is unflappable. Mid-year, PDP learned of the need to transition all iLinc courses to the WebEx delivery platform by October 1. Jessica jumped in to work with her teams to accomplish this for 13 training deliveries.
Jessica also oversaw the successful implementation of multiple training initiatives. Most notably of these initiatives were: two new training modules during a series of seven Supplemental Nutrition Assistance Program Regional Training Meetings, one new training module during a series of eight Temporary Assistance Regional Training Meetings, four custom workshops during the Home Energy Assistance Program Statewide Training Conference, and 14 deliveries of the new Program Development and Implementation Considerations for People Affected by Poverty and Trauma course for OTDA staff. Jessica ensured each milestone, and high standards were met. Each of these programs was an elevated priority for OTDA and work was performed under short timeframes with limited resources.
In addition to all of this, Jessica volunteered to design and deliver a general session on The Affect of Poverty and Trauma on Decision Making and Behavior to approximately 200 attendees at the 2018 New York Welfare Fraud Investigator Association (NYWFIA) Training Seminar, for which she received kudos from the NYWFIA President and the OTDA Training Contract Manager. Jessica also co-developed and delivered two special presentations about PDP's Poverty/Trauma training work to the UAlbany President and PDP Senior Staff in May 2018, as well as to PDP staff in April 2018 during the annual PDP Staff Recognition Program. Moreover, Jessica has also been highly effective as the PDP Communiqué Editor. As Editor, Jessica plays an incredibly important role in coordinating the design and development of the periodical and ensuring it meets PDP's high-quality standards.
Jessica met every challenge with a positive attitude, good humor, and great enthusiasm.
PDP Outstanding Administrative Support Staff Award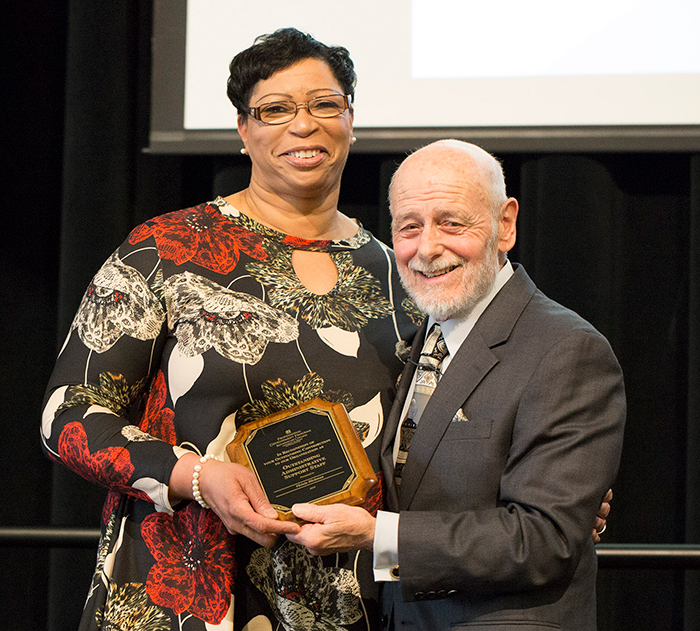 Virinia Hickman
Administrative Assistant II
Regional Office Project Associate program (ROPA)
In her 26 years at PDP, nobody has ever had a bad word to say about Virinia. Throughout the years, she has been the glue that has kept the Regional Office Project Associate program (ROPA) together. She has been the face for PDP at the Office of Children and Family Services for a quarter of a century and has made everyone feel welcome.
Virinia manages many things for the ROPA staff in six regional offices, ensuring their extensive travel is processed efficiently and assists with keeping them on task to meet their deadlines. She is authentic, empathetic, and logical; the three legs needed to create trusting relationships with everyone.
One of our ROPA staff explains why Virinia is awesome: "Let me count the ways… She has an incredible amount of patience. She NEVER loses her temper no matter how silly a question we may ask. She will tell us directions to the same thing every day if needed and never shows any aggravation with us. She will find the answer to any question we ask, even if it is not in her job description. She has an incredible eye for details, which saves all of us. She never says "no." She makes sure each of us are aware when something is going on, such as project milestones or staff leave, which is important because we go months without talking to each other."
Virinia Hickman surpasses expectations in her support of the ROPA program and we are so appreciative of her service and dedication to PDP.