PDP's Periodical
Our periodical, the PDP Communiqué, provides timely and critical information, best practices, and valuable insights about the education and training fields, as well as relevant developments in the larger academic and public service environments. With articles written by practitioners and scholars from diverse settings, the PDP Communiqué informs and sustains inquiry and conversation related to individual and organizational performance in our rapidly changing world.
Volume 45, Fall 2020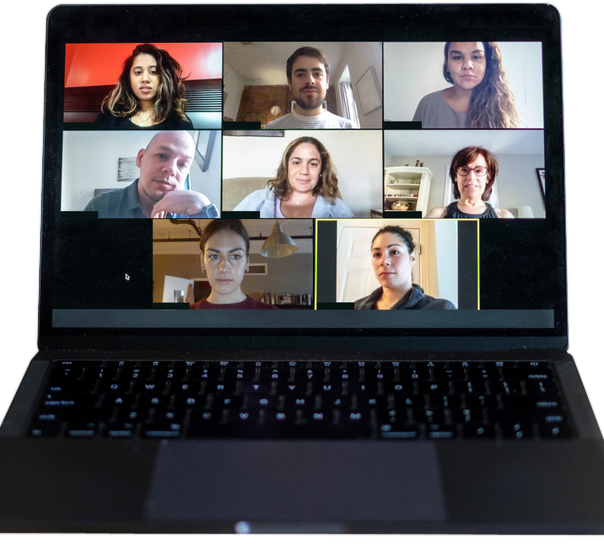 Surviving and Thriving in the Changed COVID-19 Workplace
by Eugene J. Monaco – Executive Director and Public Service Professor, Professional Development Program
In the wake of the COVID-19 pandemic, our workplaces have transformed from in-person, in-the-office to remote, online, work-at-home almost overnight and without willful intention. While in January 2020, many in the workforce may have been cautiously anticipating incremental benefits to our work environments and learning institutions from emerging technologies in the twenty-first century; only a very few infectious diseases healthcare specialists could have foreseen the oncoming pandemic and the dramatic transformation that would occur under the pressure that has swept the globe and forced innovation that otherwise would have taken years and careful planning to realize. In short, the pandemic jump-started the changing world of work in the twenty-first century.
(continued in the PDF version)
PDP September 2020 Remote Survey Results
A brief online survey was e-mailed to all PDP staff on September 17, 2020, to get their feedback regarding their experiences and opinions about working remotely from home in response to the Coronavirus (COVID- 19) pandemic. A Likert scale from 1-5 was used by respondents to rate a series of close-ended survey statements listed in Graph 1. One represents the lowest rating (1=Strongly Disagree), and five is the highest and most positive rating (5=Strongly Agree).
A total of 166 PDP staff received the survey, and 107 responded for a response rate of 64%. The aggregate average for all eight statements was a high 4.58 out of 5.00.
(continued in the PDF version)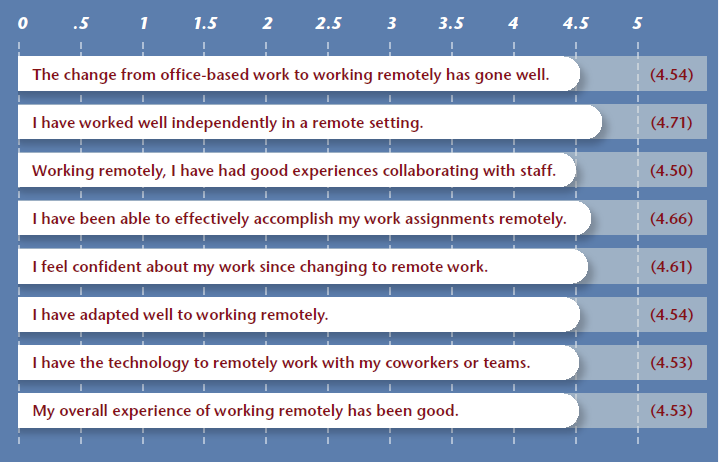 Spotlight on PDP Projects During the Pandemic
The Upstate Homelessness Services Training and Resources System Project Video Trainings
The Upstate Homelessness Services Training and Resources System project aims to build core competencies for homeless services providers, contribute to improved service delivery, reduce staff turnover, and improve outcomes for unstably housed individuals and families. The project's target audience includes individuals who work at publicly-funded organizations that provide direct services to people experiencing homelessness. These workers address the daily needs of NYS's most vulnerable populations and work with them to find and maintain stable housing. They provide services and care for individuals in crisis 24/7, 365 days per year.
(continued in the PDF version)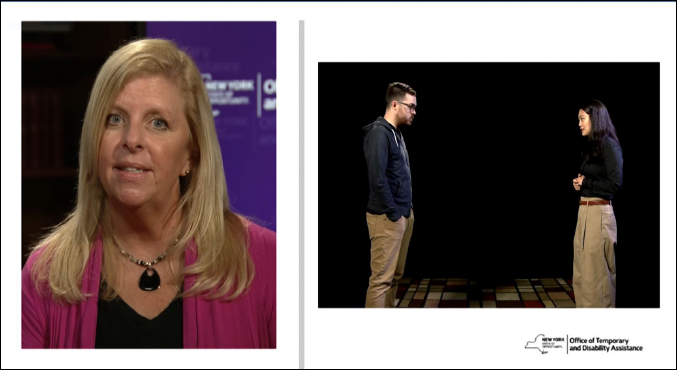 Media Production Unit
The Professional Development Program's Media Production Unit has long been providing licensed child care providers in New York State with online training opportunities and was deep into developing their next live webcast when COVID-19 shuttered most workplaces in mid-March 2020.
(continued in the PDF version)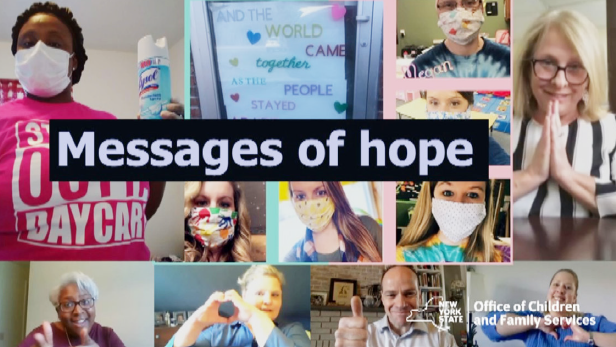 PSWP's Shift to Virtual Training
The state COVID-19 guidelines and restrictions on in-person training events required the Public Service Workshops Program (PSWP) to respond quickly to meet workforce training needs virtually while ensuring quality learning experiences that employed best practices. These guidelines affected PSWP's classroom training programs, including the NYS Leadership Institute (NYSLI), Management/Confidential Workshops, and courses that PDP develops and delivers for the NYS Governor's Office of Employee Relations (GOER) and the NYS Learning Alliance.
(continued in the PDF version)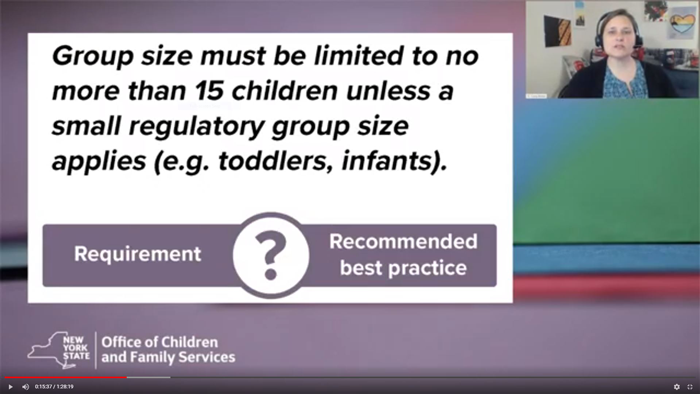 HEAP Regional Training Meetings Move Online
Every August, trainers and event planning staff from the Department of Temporary Assistance Training (DTAT) visit many of New York's major cities and interact with hundreds of trainees to deliver regional training meetings on the Home Energy Assistance Program (HEAP). There are typically eight deliveries around the state, and many trainees look forward to this annual update.
(continued in the PDF version)
CONNECTIONS: Meeting the Demand for Virtual CONNECTIONS Training
Under conditions that have strained our work and personal lives during the COVID-19 pandemic, the CONNECTIONS Training project welcomed nearly 6,000 child welfare workers across New York State (NYS) to our training deliveries for the January through September 2020 period. CONNECTIONS is the comprehensive application used by the NYS child welfare system for case documentation, tracking, assessment, oversite, and much more.
(continued in the PDF version)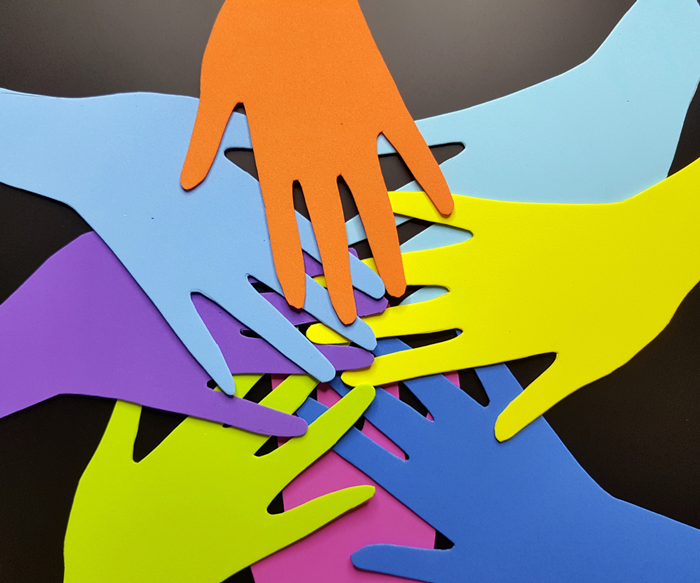 Diversity and Inclusion
Sadly, recent events, notably the deaths of George Floyd, Breonna Taylor, Ahmaud Arbery, and other Black Americans, are gruesome reminders of the problem of racism in our society. Though we have been physically separated by the pandemic, as public service professionals, PDP staff have come together for many virtual discussions to consider our role in promoting equity as we support government and non-profit performance improvement by providing continuing professional education. Over the past few months, PDP formed a Diversity and Inclusion committee, chaired by Sr. Education Specialist Cindy Wilson, that has revisited and revised our organization's diversity statement. Additionally, we have hosted two well-attended webinars on Implicit Bias and Cultural Competence hosted by Sam Caldwell, Interim Chief Diversity Officer at the University at Albany, identified and posted multiple Diversity and Inclusion resources available to our staff through the PDP Intranet, and scheduled Lunch and Learn sessions to encourage ongoing conversations amongst staff on
(continued in the PDF version)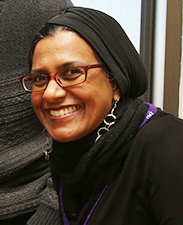 In Memory of
Fazana Saleem-Ismail
by June Mastan – Director, Professional Development Program
On June 25, 2020, we lost a coworker, a friend, and an amazing light in our community, Fazana Saleem-Ismail. We honored Fazana on Friday, July 17, at 3:30 p.m. by holding a memorial service for her by web conference.
PDP also held a small tree planting ceremony in honor of Fazana on Monday, August 24, 2020, on the grounds behind Liberty Terrace student apartments. Fazana's husband, two children, parents, brother, and niece attended along with a small group of PDP staff. We want to thank the University Facilities Department, who assisted with obtaining and planting the tree for us following the short ceremony. August 24 was Fazana's birthday, making the occasion even more special. In addition, Mayor Kathy Sheehan also declared the day to be Fazana Saleem-Ismail Day in the City of Albany.
(continued in the PDF version)
Also in This Issue: