New & Notable
Public Service Workshops Program Launched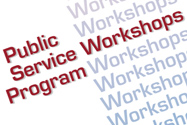 The Public Service Workshops Program (PSWP) for New York State employees in the Professional, Scientific and Technical Services (PS&T) Unit launched in Fall 2008. PSWP workshops are delivered statewide and are available at no cost to all PS&T Unit employees. Workshops address the professional development needs of employees in job titles or professions within seven major occupational groups: accounting/auditing, counseling, education, engineering health care, information technology, and law/criminal justice. In addition, some workshops address general needs, such as professional writing skills, that are useful for all employees in the PS&T Unit.
PS&T unit employees can register for these workshops through NYS-Learn, the state's new learning management system at www.goer.state.ny.us/nyslearn.
Since 1983, the Professional Development Program has administered PSWP, which is funded through Article 15 of the PS&T contract between New York State and the Public Employees Federation. PS&T Unit employees are encouraged to login to NYS-Learn to register for these diverse and engaging workshops.