New & Notable
New for 2016: EIP Event Approval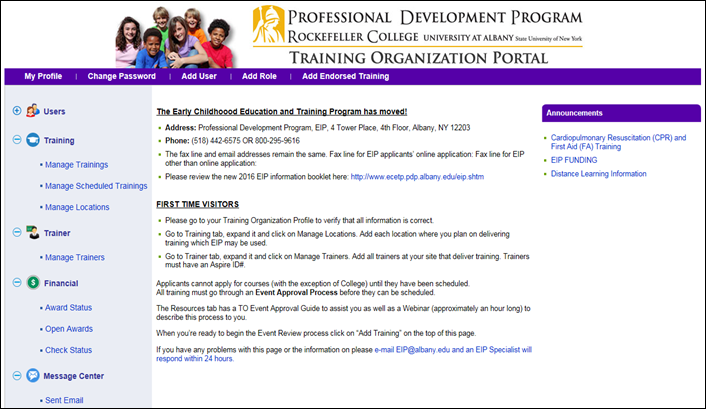 The PDP's Educational Incentive Program (EIP) is a scholarship program established in 1997 to assist child care providers in paying for training needed to meet their regulatory training requirements and further develop their knowledge and skills as child care providers. PDP administers EIP on behalf of the New York State Office of Children and Family Services (NYS OCFS), with funding from the federal Child Care and Development Fund.
For the 2016 program year, PDP rolled out an Event Approval system requiring review and approval of all training curricula used to train EIP scholarship recipients. Training submissions are quality assured through a review of specific criteria prior to the issuance of scholarship monies for the training.
Increasing oversight requisites for training curricula supports requirements of the federal Child Care Development Block Grant (CCDBG) Reauthorization Act of 2014 while also striving to improve the quality of training opportunities available to child care providers throughout New York State.
During the EIP Event Approval process, submitted training events are reviewed for the accuracy of training type and associated hours, training description, objectives, goals, professional development level and alignment with OCFS regulatory topic areas, the NYS Core Body of Knowledge, NYS Early Learning Guidelines and the 10 Federal Health and Safety Standards.
As of June, 2016 the EIP Event Approval program has:
Received 672 different trainings for review through the newly designed and developed portal
Approved 615 as EIP eligible through the newly developed EIP Event Approval process
Scheduled 1,121 different offerings for delivery in 2016
Issued 5,489 scholarships for 3,624 child care providers
EIP will continue its progressive approach to improve the quality of training supported by state and federal funding by implementing a training evaluation component during Phase 2 of Event Approval beginning in the fall of 2016.