New & Notable
DHRM Training Program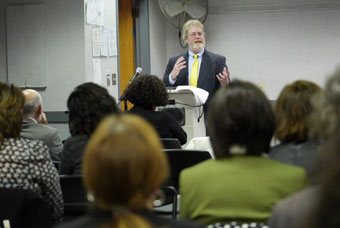 In partnership with the Department of Civil Service (DCS), the Governor's Office of Employee Relations (GOER) and Cornell University, PDP developed a training program for New York State Directors of Human Resources Management (DHRM) intended to increase strategic human resources skills and facilitate a fundamental shift in the way DHRMs think and act, with less focus on transactional issues and more focus on strategic thinking to accomplish agency goals.
The DHRM Training Program used a blended-learning approach to tie course content to human resource practices in New York State government. The program main component was completion of a six-course advanced human resources certificate through eCornell. Other components included mentoring sessions to tie course content to NYS work and completion of an action item plan that would outline how the DHRM would take strategic human resources concepts and operationalize them at their agency. In addition guest speakers with expertise in application of course content to NYS government were invited to speak at select mentor sessions.
When asked to describe the most meaningful or valuable part of the training, mentoring sessions and group discussions were mentioned with the most frequency. This comment illustrates why: "Being able to dialogue with colleagues involved in the same body of work — to hear their perspective on the various challenges we face, things they have put in place successfully and recommended for improvement was invaluable."
Through this training program, a community of practice (COP) was established and efforts continue to provide an ongoing forum for DHRMs to exchange ideas and work together on enterprise-wide initiatives.