New & Notable
PDP Awarded Contract to Develop STD/HIV Training for CDC

PDP has been awarded a contract to aid in the development of a nationwide training program aimed at enhancing key job skills among those working to curb the spread of sexually transmitted diseases (STDs) and HIV/AIDS. Funded by the Centers for Disease Control (CDC), the project brings together four regional STD/HIV Prevention Training Centers (New York, Texas, California and Mid-America PTCs) to produce an updated national curriculum that will provide health workers with both classroom and online instruction related to Partner Services. Partner services is a public health intervention offered to persons with STDs/HIV and their partners. A key function is partner notification, a process through which infected persons are interviewed to elicit information about their partners, who are then confidentially notified of their possible exposure or potential risk (with prevention counseling, testing/screening and referral also included). The curriculum will include modules for both partner services specialists and for other providers (such as clinicians). Based on its past performance and innovation in creating online training for public health audiences, PDP Instructional Technologies group was chosen to develop the online components of the training, which is expected to pilot in late fall, 2010.
Creative Recruitment Efforts in Western NY
Mary Sample Smith, a trainer on PDP's Foster and Adoptive Parent Recruitment and Retention project has recently been involved with two initiatives that support the recruitment and retention of foster and adoptive parents, and the promotion of National Adoption Month in November. Under contract through the New York State Office of Children and Family Services (OCFS), Ms. Sample Smith works closely with the Buffalo and Rochester OCFS Regional Offices to provide technical assistance to local districts of social services and child welfare voluntary agencies with their recruitment and retention efforts.
As part of her work as a member of a recruitment collaborative in the southern tier of western New York, Ms. Sample Smith worked with Wendy's Restaurants on the development and design of a food tray liner for distribution to Wendy's Restaurants in their southern tier restaurants. Ms. Sample Smith collaborated with PDP's Graphic Designer, Catherine Reynolds, on the design of these recruitment tray liners. These tray liners also appeared during the month of November in a number of county Wendy's Restaurants in the Rochester region.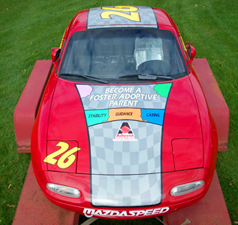 Also in the Rochester region, Ms. Sample Smith worked closely with a local foster/adoptive parent, who is a race car driver and member for the Sports Car Club of America, to create four venues for foster parents, chosen by their agencies, to visit the track at Watkins Glenn with their children. The events honored foster families from the Department of Social Services in Yates, Chemung, and Livingston Counties, along with a family from Kinship Family Services. Each agency had the opportunity to recruit at the event on their weekend at the Glen. In addition, a recruitment message was designed for the foster/adoptive parent's race car, a red Mazda Miata. Ms. Sample Smith again collaborated with Catherine Reynolds to create the recruitment decal designs for the car. The car first raced on October 11, 2008.